Digital music services are something most of us hooked on to. Be it be Gaana, JioSaavn, or Spotify, this marketing and business sector is growing at a pretty high rate. Owing to their ever-improving algorithm of collecting our listening history and creating lists of music customized just for our ears, more and more people are getting hooked on to these services every day. However, before plugging in your earphones and tuning on to the realm of nirvana, have you ever wondered how the "curated just for you" suggestions are made by these apps and what your preferences might reveal about you?
Personality and Music
Relation of human psychology and music has always been an area of interest for scientists and the psychologists alike and a fair bit of established research been done in this field. It is no surprise now that one's musical preference does indeed speak a lot about one's personality and psychology. According to observed and reported data, there is a strong correlation between the preference of Pop, Rap & Hip-hop, R&B and EDM genres and an outgoing or extroverted personality with a preference for sensing over having intuition. Likewise, the correlation between Metal and Classical genres and an introverted personality with an overtly intuitive nature has been found to be strong.
(Bonifield, 2016; Devenport & North, 2019; Dredge, 2015)
Consumerism and Music
There is a strong link between music and the products that you might choose to buy. A classical study conducted in 1993 showed a connection between background music with consumer's choice over certain products. The research concluded "classical music influenced shoppers to spend more money." It also reported that "rather than increasing the amount of wine purchased, customers selected more expensive merchandise when classical music was played in the background."
A 2009 study reported that when the music of a particular origin or ethnicity was played, there was a bias amongst the consumers to select a specific product that could be related culturally or linked up based on preconceived knowledge of the origin of the product to that of the music played, compared to the products that could not be linked likewise. However, this musical context is significant only when people have no 'preconceived' preference for one product over the other.
The same bias was found when they conducted another experiment of similar nature in 2010 with the products as Malay and Indian foods. Preference for Malay food both relatively and over Indian food increased by playing of Malay music in the background and likewise was observed for a preference of Indian food with Indian music played in the background.
This is indicative of the fact that whatever music we prefer listening can accordingly influence our choice of availing a particular service or buying a particular product.
(Areni & Kim, 1993; Yeoh & North, 2009, 2010)
Political Inclination and Music
Yes! It is indeed true that your political inclination is correlated to your music preferences. Not only that, capabilities like self-efficacy (the confidence to achieve a goal or an aim), developing into a social influencer and opinion leadership have been found to be positively associated with "creation and consumption of music content on Facebook." This means that the development of mass opinions can be related to exposure and preference of musical genres.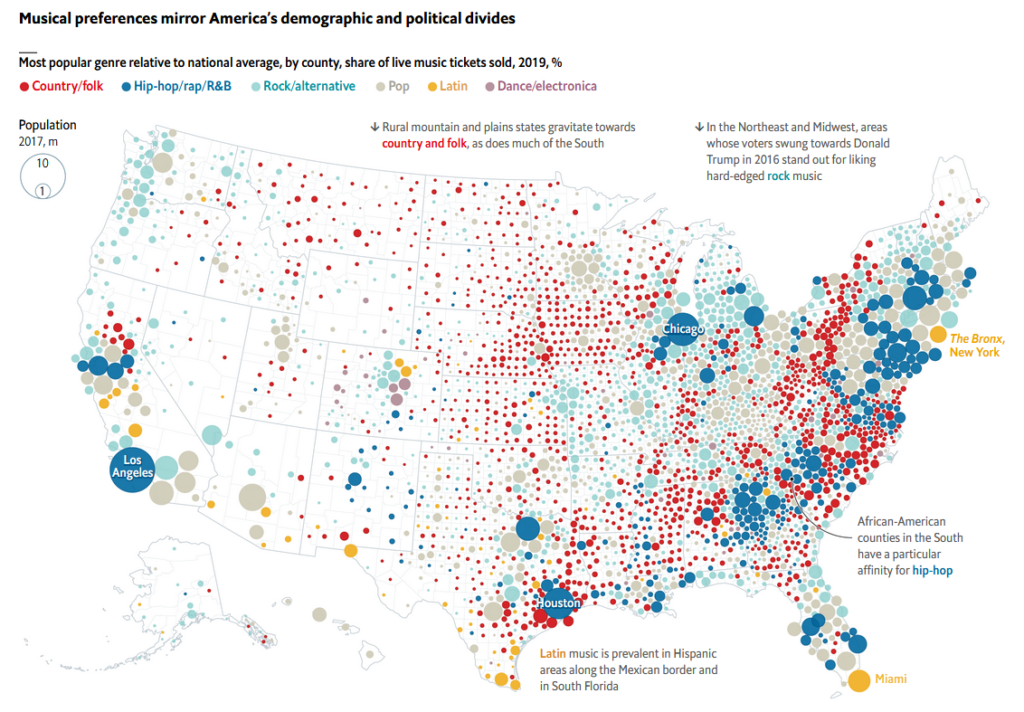 Some results indicate that there is a positive connection between Liberalism to the liking of three musical 'dimensions', namely, Intense, Rhythmic, Established. In fact, it was found that rural whites in the Unites States majorly liked the rap genre, and were highly left-wing. This can also be said to be a genre in which artists have raised voices against police brutality, which might explain why the preference correlation was observed. States, where the songs of Metallica, AC/DC and Guns'n'Roses are trendy, were found to have voted for Barack Obama in 2012, but Donald Trump in 2016. They are of opposite parties, namely the Democratic Party and the Republican Party, respectively, and so, this particular observation could not be clearly explained.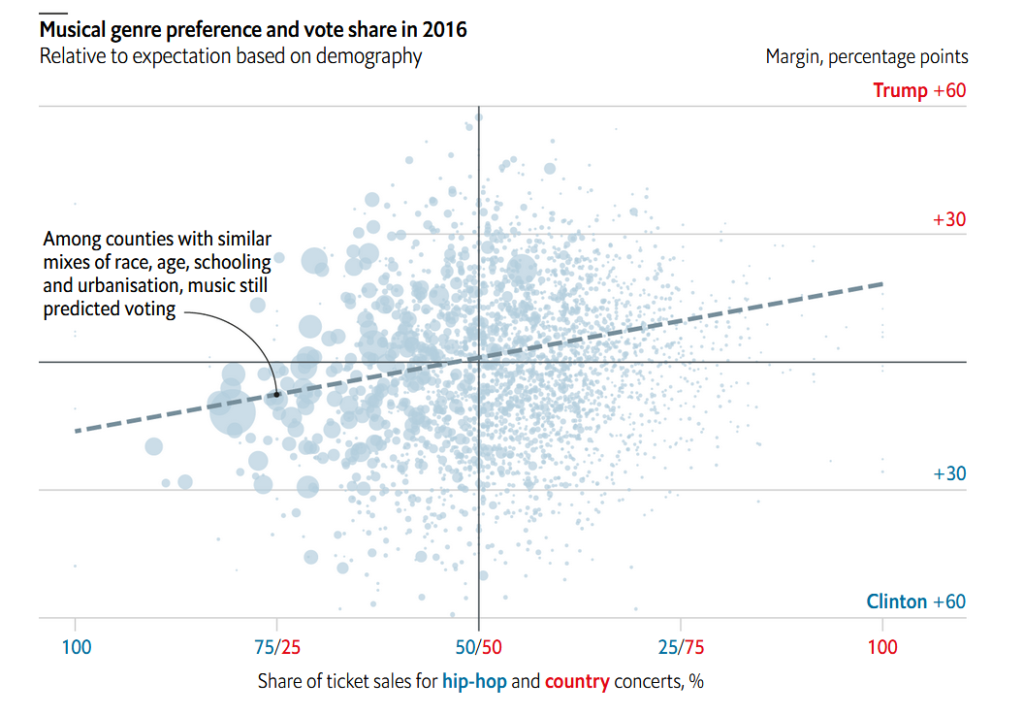 According to a 2019 report in The Economics, "In 2016 Donald Trump's share of votes in places where country out-sold hip-hop was 22 percentage points higher than in those where hip-hop was more popular. When combined into a statistical model, race, age, education and urbanisation account for only an 18-point gap. The remaining four points consist of factors reflected in music but not by demography."
All of these suggests that our 'musical' data can speak a lot about our political opinions. Also, it might be suggestive that exposure of a particular set of musical genres can enhance the development of a specific political view.
(Devenport & North, 2019; Krause et al., 2020; The Economist, 2019)
Why Are These Correlations Important to Understand?
With the ever growing popularity of digital platforms more and more of us are using their services and consequently they collect a lot of our personal data. If companies need to thrive in the market, they need to master the art of data analysis. This will enable companies to not only cater personalized music suggestions but also help them make better marketing offers, publicity strategies, gain new revenue sources by launching new products or services and better analyse the future of their market which will help them adjust accordingly.
This is something that is absolutely normal for companies to do to survive better in the competitive market. However, this might become worrisome if we are to think that our choices get driven by the advertisement strategies that we are exposed to by the companies. If used in some seriously vested interests like creating an opinion bias that can affect society as a whole, they can effectively affect our opinions and mindset.
It is well known that music trends change with time, and they have a lot to affect when it comes to our lifestyle and outlook. How it happens can either be consumer-driven or policy-driven. It is totally upon us if we want to be conscious of this and conduct ourselves accordingly or not. However, an understanding of this is something that we all need to do. Not only that, those of us who understand these need to educate people about such issues in general.
(Deloitte, 2019)
Anything to Fear?
According to the Privacy Policy of Spotify as of January 2021, "We will share your personal data in those cases where we sell or negotiate to sell our business to a buyer or prospective buyer." However, in such cases, they will notify the users about a change in Privacy Policy. They can share our data for advertisement purpose, academic or research purpose and legal purpose, in a pseudonymised and encrypted fashion, with a pre-defined retention policy. However, it is still suggested to keep our accounts password-protected to reduce chances of hacking and other illegal manners of sucking out data. (Spotify, 2020)
More or less similar are the privacy policies of other digital music streaming platforms. However, it should be understood that no system is ever perfect, and despite the most stringent privacy policies and data security measures, our data always have a certain degree of vulnerability. The onus is on us how we understand the risks, how conscious we are regarding data protection and data privacy issues, and how, with a good understanding of these issues, we conduct ourselves every single day, every single moment.
By Diptatanu Das (Department of Biological Sciences, IISER Kolkata)
Edited by Aesha Lahiri (Department of Biological Sciences, IISER Kolkata)
Cover Art by Aesha Lahiri (Department of Biological Sciences, IISER Kolkata)
About the Editor:
Aesha is a student of the biological sciences currently pursuing her BS-MS at IISER Kolkata under a KVPY fellowship. She can be found mostly huddled under her blanket, a long cup of cold coffee in hand with her earphones blasting lofi whenever she's not logging in to online classes or reading movie plots on Wikipedia. Quite the Jack of all trades, she has gone ahead and volunteered at a few NGOs in taking care of animals and educating children. She has fallen back on to art as her escape since forever and has forayed into the performing arts in recent years. She is currently the Secretary of the Arts Club at IISER Kolkata. But if caught unawares, she will tell you, nothing creative can come out without stringent deadlines and continuous reminders.
References:
Areni, C. S., & Kim, D. (1993). The Influence of Background Music on Shopping Behavior: Classical Versus Top-Forty Music in a Wine Store. Advances in Consumer Research, 20, 336–340.
Bonifield, J. (2016, March 16). Quiz: What does your favorite music say about you? CNN Health, Available on: https://edition.cnn.com/2016/03/31/Health/What-Music-Reveals-about-Personality/Index.Html.
Deloitte. (2019, April 22). How Third-Party Information Can Enhance Data Analytics. Harvard Business Review, Available on Https://Hbr.Org/Sponsored/2019/04/How-Third-Party-Information-Can-Enhance-Data-Analytics.
Devenport, S. P., & North, A. C. (2019). Predicting musical taste: Relationships with personality aspects and political orientation. Psychology of Music, 47(6). https://doi.org/10.1177/0305735619864647
Dredge, S. (2015, January 6). Spotify has six years of my music data, but does it understand my tastes? The Guradian, Available on Https://Www.Theguardian.Com/Technology/2015/Jan/06/Spotify-Music-Streaming-Taste-Profile.
Krause, A. E., North, A. C., & Heritage, B. (2020). Music-related activities on Facebook. Psychology of Music, 48(4). https://doi.org/10.1177/0305735618816165
Spotify. (2020, January 20). Spotify Privacy Policy. Available on: Https://Www.Spotify.Com/in/Legal/Privacy-Policy/#6-Sharing-Your-Personal-Data.
The Economist. (2019, November 16). Why Obama-Trump swing voters like heavy metal. Playlists and Politics, The Economist, Available on https://www.Economist.Com/Graphic-Detail/2019/11/16/Why-Obama-Trump-Swing-Voters-like-Heavy-Metal. (see also, Fig. 1 and Fig. 2)
Yeoh, J. P. S., & North, A. C. (2009). The Effects of Musical Fit on Choice Between Competing Pairs of Cultural Products. Empirical Musicology Review, 4(4). https://doi.org/10.18061/1811/44658 Yeoh, J. P. S., & North, A. C. (2010). The effects of musical fit on choice between two competing foods. Musicae Scientiae, 14(1). https://doi.org/10.1177/102986491001400107
Cover Art: "Nirvana" by Aesha Lahiri (Pinterest)