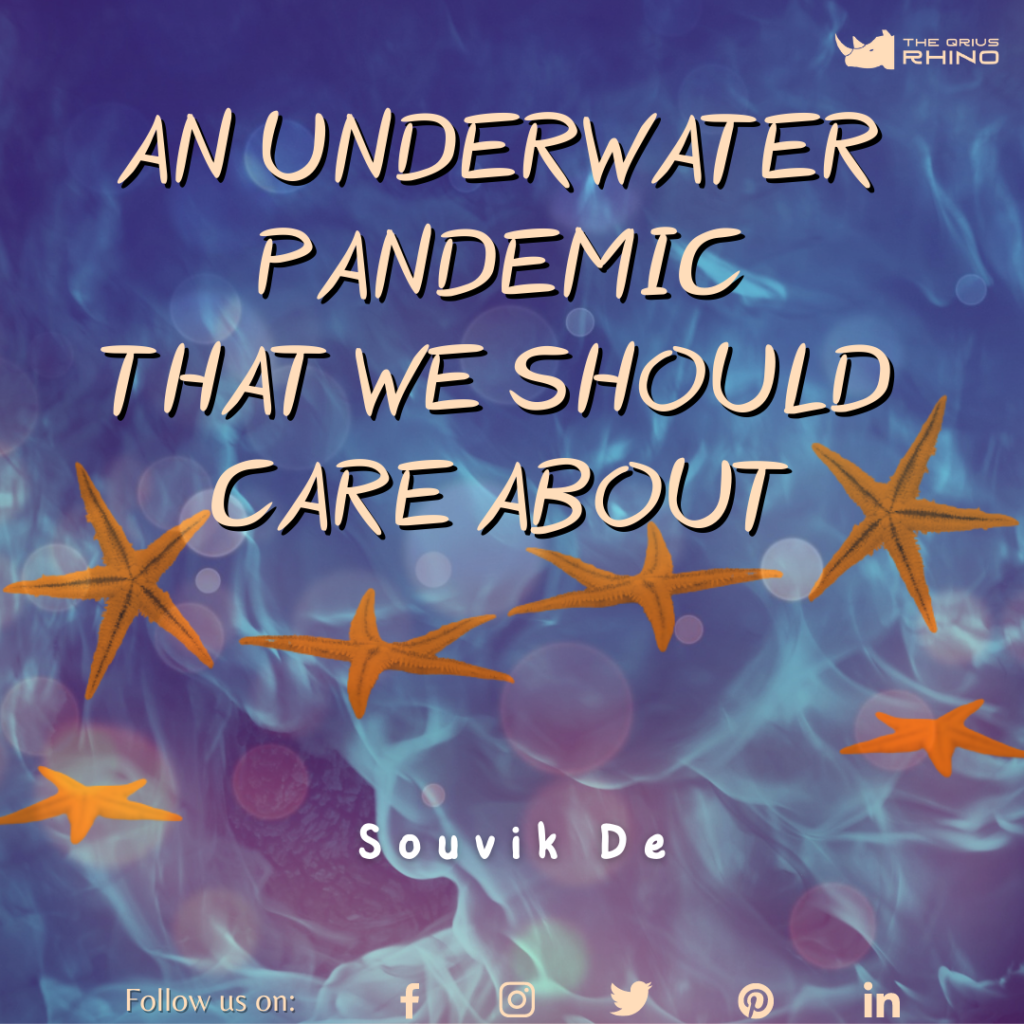 The North Pacific is facing something we just don't know about. Or maybe we just do not care.
Zombie movies are pretty gross. A lot of killing and gore. I could digest if it ended there. However, things get awful when the antagonist severs an arm of a zombie with a Katana, then the severed arm starts moving towards the hero.
Jump cut to the animal kingdom.
Some organisms from the phylum Echinodermata show this property too: The Starfishes. Why do they show this kind of behavior? It is highly unlikely that Bob the starfish just wants to pull some kind of prank on his friends. "Look, my arm is detached! Now it is moving!"
This happens for two main reasons.
First case: predator attacks Bob; a shrimp or cuttlefish grabs one arm of the starfish, it disengages the appendage, and flees with the rest.
"Gotcha".
"No, you did not."
Second case: when Bob has to make little Bobs i.e., reproduction. The female counterpart will shed their arms in order to increase the range of egg dispersion thereby increasing the possibility of eggs being fertilized by neighboring male starfish. Pretty cool, huh?
Regeneration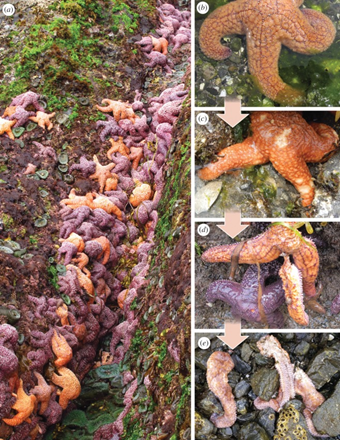 One might wonder- If the starfish can lose its appendages that easily then eventually there will be no arms left to lose. In order to compensate for this, sea star undergoes a process called regeneration i.e., with time they grow new limbs from the place of detachment. Some species can even grow new central discs from a shredded arm!
Over the last decade, a large number of sea stars were found dead in the sea bed. Their appendages were lopped off from the body and found all over the habitat. Moreover, the central disc turned into a white pile of goo. Thousands of dying sea stars in the north pacific could cause a collapse of the marine biodiversity in that region.
An ss-DNA virus called the Sea star-associated densovirus (SSaDV) causes this disease. Upon viral infection, the host develops white lesions all over the body. Soon, the lesions start decaying. In addition, the infected host stops taking food and its water vascular system fails resulting in the collapse of the internal hydrostatic balance. Subsequently, the body structure breaks down and the arms start falling off. Eventually, in a few days, the starfish dies due to massive tissue wasting.
The Wasting Disease
This virus infects almost 20 species of sea stars. Notably, a case study based in Vancouver shows that before mass wasting began, a vast majority of sea stars (about 90%) were ochre sea star, and the rest of the population contained the mottled sea star. Now, the ratio is 60-40 in favor of ochre sea stars. Reason for the change in the ratio? Scientists have found that the pathogenesis of infection is different for the two. For instance, mottled sea star takes more time to get infected; but not all of them die once infected. On the other hand, ochre sea stars get infected way faster and their mortality rate is also higher.
To clarify, sea stars are one of the main predators in marine biodiversity. A rapid decrease in their numbers consequently causes a spike in the population of sea urchins (prey). Kelps are their food source. Scientists have found a significant decline in the kelp population which can lead to the starvation of marine species and ultimately collapse marine biodiversity.
Global warming- an important factor
Why is this pandemic happening now?
Honestly, we still do not know for sure. But global warming may have an important part to play here. A pattern shows that the anomalously warm waters show higher mortality rates. 2019 onwards, coastal areas have started to show signs of a potential rise in sea star population. But would it continue to be so?
We can conserve the gene pool by either collecting some juveniles who can reproduce and induce artificial mating among them or use cryopreservation to conserve the sperms and eggs of the species. This, however, will reduce genetic variation and will ultimately lead to the extinction of the species. Even if we are able to conserve the predator species, biodiversity will still collapse. The only solution is to keep global warming in check in order to prevent a worse pandemic from hitting in the near future.
References:
Sea Star Wasting Disease Update 2017
Why Are So Many Starfish Dying? | National Geographic
https://www.youtube.com/watch?v=VPSFdjvES_Y
About the Author
I am Souvik De. Currently, I am a First-year BS-MS student of IISER Kolkata. I have a fascination with Biological Sciences. I love to read fiction, nonfiction and listen to Metallica in my leisure time. I am a huge supporter of Manchester United.
Read Also