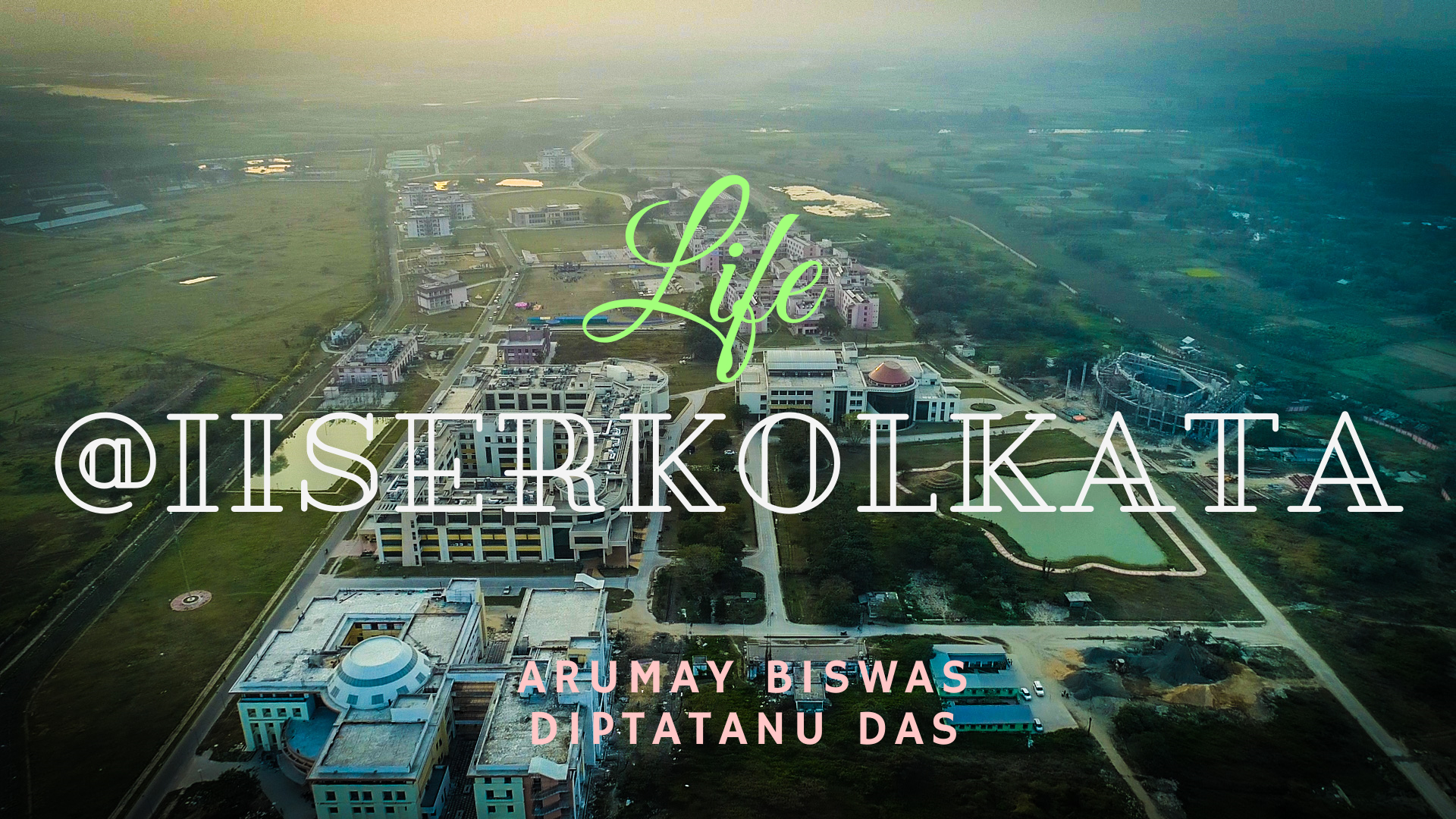 What is IISER Kolkata?
IISER KOLKATA is the heart of Mohanpur.

Biswajit Roy (Currently a Senior research fellow at Department of Earth Sciences, IISER Kolkata, Batch: 13IP)
Indian Institute of Science Education and Research (IISER) Kolkata is a premier research institute, dedicated to the advancement in various fields of science. Since its foundation in 2006, it has gained significant popularity in the scientific community across the world. Its excellent academic programmes and outstanding research output has made it a force to be reckoned with. In 2006, IISER Kolkata started functioning from the IIT-KGP's extended campus in Salt Lake, Kolkata. Later it shifted to a transit campus and eventually to its present campus in Mohanpur, Nadia. Now it has become the most clichéd complaint amongst students that the name IISER "Kolkata" is a misnomer, for it is about 60 odd kilometres from the city centre.
How does it feel to be an IISERite at IISER K?
It always feels great to be a part of a reputed institute in your country, doesn't it? It might take one some time to realize the perks of studying in such an institute but it gets evident eventually. With a completely different vision regarding the kind of education provided, incorporated with the latest notions of research, its uniqueness surely stands apart from the other universities and colleges. The open atmosphere and immense scope for learning make every IISERite feel privileged when given the opportunity. IISER K being one of the oldest IISERs, is often preferred by students more to some of the sister IISERs. Although every IISER is doing an equally excellent job, this preference has inadvertently crept in. The atmosphere at the very undergraduate level is often more conducive for research than most of the colleges and universities in India. Also, for undergrads and research scholars, it is a unique opportunity for them where they can collaborate with each other continuously, which might often act as a pivotal point in their research work.
IISER Kolkata provides a perfect ecosystem to explore, grow and cultivate scientific rigour at the undergraduate level. Looking back with nostalgia, I remember a campus full of warmth, support and occasional challenges that nurtured and shaped our personality. Along the journey, we met unique and beautiful minds, learned from each other, made memories and built relationships to treasure.

Mrinmoy Pal (Director's Gold Medalist and Currently a Graduate Student at Institute of Functional Epigenetics, Helmholtz Zentrum, München, Germany, Batch: 13MS)
Living a life in the rural setup, which is miles away from the hustle and bustle of the city, is a distinct experience at IISER Kolkata. You will feel its peace and silence filled with the sounds of campus life. The beauty of the nature around you will never disappoint you at any time of the year. This beauty changes with seasons, and while you are involved with the cutting-edge academics and research at IISER K, you will constantly have the opportunity to share your emotional space with nature. In short, you will get the chance to work your brain in the classrooms and get a refreshing break amidst nature as well. So, it is quite evident how wonderful it feels to be an IISERite at IISER K.
Academics, Research, Culture, Sports and much more
If you want to stay brighter in IISER, then you will have to be either wiser or miser (if you know what I mean).

Rahul Sharan (Currently a Physics Graduate Student at NCRA, Pune, Batch: 15MS)
The institute provides top-grade facilities in terms of academics and research. From the classroom to the laboratory, everything is designed with state-of-the-art infrastructure. Classroom vibes make some memorable times for the students. Since the whole batch gets to have a flavour of all the subjects that IISER K offers in their semesters, the fundamentals of interdisciplinary science get rooted deep inside every student. Although you get segregated gradually into your major departments, you still get to choose courses from other departments and get the best of every discipline. This flexibility has bridged the gap between disciplines. The interdisciplinary curriculum has facilitated work at the interface of various disciplines. We have seen students fall in love with Biology and go for a PhD without having studied Bio at +2 level.
IISER gives you the power to dream and do big. Couldn't have imagined pursuing a PhD in Biology at a world class university without having biology in high school, if not for IISER. Also it taught that boundaries between different science subjects are so blurred ; imparted a truly interdisciplinary science education which helps us appreciate the work of all scientists.

Raunak Sen (Director's Gold Medalist and Currently a Graduate Student at Dept. Of Neurobiology and behavior, Cornell University, USA, Batch: 14MS)
IISER Kolkata has competed in the iGEM (International Genetically Engineered Machine) competitions for the last two years. Since its very first participation in 2018, the institute has involved freshmen in the team, the first Indian institute to do so perhaps. In both 2018 and 2019, they finished high with a gold medal. This is an awesome opportunity for students across all departments and batches to come together and work towards the mitigation of a problem that affects the entire society. The way IISER Kolkata has started its iGEM journey is something that is unprecedented in other IISERs. The enthusiasm and perception of iGEM among the students is nothing short of a science festival. (Further Reading: iGEM in India!)
When an eaglet takes its first flight, the beating of wings are hard and winds are cruel, but the heart of the little eagle burns bright, Up it goes against the winds, with the zeal to fly as fuel. That is how we went up, a first timer in iGEM 2018, and soared the sky like a mighty eagle, to bag our gold.

Paresh Priyadarshan Rana (Team Leader of iGEM 2018 IISER Kolkata Team and Currently a BS-MS Student in Department of Biological Sciences, IISER Kolkata, Batch: 16MS)
Some of the students of IISERK have also gone ahead and created startups: Rakshit Kalra, 9MS, ReScreen; Prakash Mandal, 12MS, Agaiah Resource Mangement; Shubham Sharma, 13MS, Rebhu Computing; Aditya Kumar, 14MS, SwachhCoin; and, Prince Roy, 14MS, TTKHELO Sports. Currently, the IISER Kolkata E-Cell and the Institute Innovation Council are working in further encouraging science enthusiasts in IISERK to develop entrepreneurship skills and are acting as thought tanks for realistic and innovative proposals.
IISER Kolkata has also recently launched its scicomm magazine titled 'Cogito 137 – The Thought Capsule' and is on the mission to expand itself and create a larger outreach. It engages in communicating science and scientific updates from IISER Kolkata to the entire community.
Cogito is a student-led sci comm magazine based in IISERK. We believe that there is no point in doing science if we fail to provoke scientific thinking and awareness amongst people. So in stead of confining science to labs, we communicate it to everyone through simple jargon-free writing and other forms of art. Students as well as faculty members are welcome to write for us any time and play their part. At first when we started with Cogito, we were unsure whether this venture will be successful or will die down gradually because no matter how great an idea is, it does not matter if one fails to follow through with the idea. Fortunately, we got a highly efficient team of students taking care of various aspects of the magazine and many enthusiastic science writers in IISER who write for us now and then. I personally look forward to more involvement from my juniors, peers and seniors so that we can eventually reach the status of a national sci comm platform. In other news, check out our recent articles in WIISER (Women in Science) series and sci-toons on Covid19 in our Comictious series. Keep spreading science and joy peeps.

Nandana Goswami (Editor of 'Cogito 137 – The Thought Capsule' and Currently a PhD Student at the School of the Earth, Ocean & Environment, University of South Carolina, USA, Batch: 17IP)
IISER Kolkata being a national institute, students from every corner of the country bring a boat-load of different cultures into our small campus. Every student gets to showcase their talents through various cultural events throughout the year. Festivities like Saraswati Puja, Onam, Makar Sankranti, and Utkal Divas are celebrated in the campus with the support from the entire community. We also get a taste of different cuisines from across India during these celebrations. The sumptuous sadhya, pokhala bhaat, litti-chokha and many other dishes are something that we have been privileged to try. Other occasions like Bihu and Agomoni are also celebrated with great fervour and enthusiasm.
The SPICMACAY Chapter of IISER Kolkata has featured eminent artists such as Pt Hariprasad Chaurasia, Pt Vishwa Mohan Bhatt and many other artistes of immense stature. Such programmes beautifully portray the rich culture that India possesses.
The Music Club sees active participation from students across all batches and there are in-house bands as well. We also have art and photography contests, along with their exhibitions.
The cultural richness of IISER Kolkata is very well vouched for by its fabulous performance in the Inter-IISER Cultural Meet (IICM) which is held every year since 2018. The first IICM was organised in IISER Kolkata as it was a brainchild of Professor Jayasri Das Sarma and was initiated by then Dean of Student Affairs, Dr. Arindam Kundagrami.
I believe Sports is the rope which connects people outside their comfort zone/language/diversity and IISERK excelled in it, not only in intra-college events, but also our teams went to play IIT Kharagpur, ISI Kolkata, BCKV, Calcutta Medical College and some local units to make the "IISERK" bond more reliable and the brand to shine in extra curriculum other than academics.

Prince Roy (Founder of TTKHELO Sports, Batch: 14MS)
IISERK students take a deep interest in sports. Football, Cricket, Basketball, Volleyball, Badminton, Table Tennis, Lawn Tennis, Athletics, Kho-Kho, Chess and Kabaddi are the main sports played in IISERK. Every year, the IISERs, NISER, UM-DAE CBS and IISc Bangalore meet at one of the participating institutions to showcase their sporting talents in a national level event, known as Inter-IISER Sports Meet (IISM). Both the boys' and girls' contingents have been successful in winning laurels at IISM. IISER Kolkata is also credited for the origin of IISM and the first edition of it was organized at IISERK in 2012. The last time IISER Kolkata organized IISM was in 2016. It has maintained a high level in sports and has done consistently well at the IISMs since its inception, but it still needs to work harder to better their chances at the champions trophy every year. With specialized coaching sessions stretched throughout the Autumn semester, IISERK has been regaining its past glory over the last two years in every sport. We hope that the specialized sporting facilities and coaching sessions will enthuse the future members of the IISERK family even more.
IISERK is the best place to explore yourself. All the different clubs in IISERK have always taken care of different interest of students. It helped me to gather tons of experiences. 5years in IISER K hostel is my best experience till now. I enjoyed staying at IISER K. I love my campus.

Mousumi Biswas (Sporting Legend and Alumnus of IISER Kolkata, Batch: 14MS)
Hostel and Fun
IISER is a world in itself. The day you leave it, starts the day you will be missing everything of it.

Aakash Anand (Currently a Senior Research Fellow at Department of Earth Sciences, IISER Kolkata Batch: 09MS, 15RS)
For most of us, college is the first time that we have ever moved out of our house to live on our own. People in the hostel range from the homesick lad to the guy who'll never, for once, go home. Here you'll spend sleepless nights having fun with your friends. A night walk or cycling around the campus with your friends or you-know-who might give you everlasting memories. The frenzy on the night before the exam is inevitable but we feel a tad relieved seeing our friends on the same boat(LOL!!). It's very nice to stay together with friends whom you'll eventually call family.
In IISER Kolkata, we have three hostels in total. Being relatively new, they are relatively better than many hostels at other national institutes. The 24×7 WiFi is a boon because it is the only means of staying connected to the outside world while staying away from city life. When it comes to canteen food, you'll only hear sighs. Of late, food-delivery companies like Zomato and Swiggy have started operating in the region to our relief. Bimal da's tea corner, LHC cafeteria, gate number 7 shops, paratha shop and prefab gate tea stalls are few of the places which often serve as alternatives to the institute canteen, and whenever you go there, you will find students and faculties enjoying their food with an adda – something very special in Bengal. On Friday nights, the TRC auditorium turns into a movie hall, screening movies from all around the world. It is quite a nice start to the weekend, the time when everyone cuts themselves some slack.
Life in a hostel is something that one can never actually predict but can only see it unfold its surprises gradually along the way.
I, like most students who came to IISER-K, was living away from home for the first time. However, the community life in IISER-K never made me feel homesick. I made friends for life here. Even though the coursework was pretty intense, we had plenty of opportunities to have fun- from playing card games all night long to participating in campus club activities. The time I spent here has truly some of the best memories of my life.

Ankita Biswas (Currently a Graduate Student at the Department of Chemistry, University of California Irvine, USA, Batch: 12MS)
Inquivesta is an emotion! Forget your ex, come to Inquivesta X. It will be X times better this time. Whether there is anyone else or not, Inquivesta will always be dear to me! For organisers like me, the Inquicon is now a symbol of pride. We work year-round for people to enjoy three days and there is no greater joy than knowing that our efforts do pay off sometimes.

Dakshesh Vasan (InqX Sponsor Executive, Cogito PR Manager and Currently a 3rd Year Mathematics Major BS-MS Student at IISER Kolkata, Batch: 18MS)
Inquivesta is the 3-day annual extravaganza organised by the students of IISER Kolkata. Inquivesta is a symbol of hard work, team spirit and is a strong public identity for the IISER K community. It is a culmination of several forms of art and culture. From very innovative unique events to cultural performances to the much loved "pro-nites", Inquivesta has it all. Food stalls, decorations, lighting and music fill every void in the 200 acre campus and bring in a very festive atmosphere that etches into the memory of anyone who comes by.
Inquibytes is a mini-Inquivesta that serves as a Trailer, or even a Teaser; for the real fest! Inquibytes, started in 2018, was only open to intra IISERK students at first and has recently begun welcoming outside participants as well. Inquibytes comes with several events, each called an "Inquibyte". These events not only keep everyone hyped up and in anticipation for the real deal, but also help the organisers know how to smoothly handle the real fest when it happens. Over the past year, Inquibytes has had record participation from outside and it aims to grow more. Who knows? One day it might grow out to become a fest of its own!
When I came to IISERK I soon realised, this wasnt the campus life I thought I'd get. I thought it'd be like IITs -you know- everyday something is going on! After attending SF17 at IITKGP, I got driven enough to take things in my own hands and try getting a change to campus culture which would sow the seeds of a more vibrant and active student community. That's what Inquivesta 8 meant to me. I wanted to set a sky-high benchmark. I never lead a team at this level before, I felt that the drive I had in me could keep things going. We had many setbacks, like really big ones. But we overcame all of them through hardwork, dedication and a positive attitude. It was a learning process for the whole team, since this was the first time we were organising an event of this scale. But we managed to make it the best fest IISERK has seen so far!

Siddhikant Mishra (Student Coordinator at the Center for Career Development, IISER Kolkata, Fest Coordinator of Inq8, Ex-Office Bearer in SPICMACAY and Badminton clubs, and Currently a 5th Year Mathematics Major BS-MS Student at IISER Kolkata, Batch: 16MS)
After graduating from IISERK, people go a myriad ways. Some go on to pursue a doctorate, while others prefer industrial and white-collar jobs. We have a vast alumni network spread all across the map. Many BS-MS graduates have joined doctoral programmes in IISc and various IITs. Students who went abroad for their studies have joined grad schools like Princeton, Stanford, the Ivy-s and many more in the States. We also have alumni in Europe, Israel, Japan and many other countries. They guide the current students of IISERK and motivate them to stretch their limits and fly high. There are graduates who have joined organisations like Shell, IOC and some other corporate companies. Although most people still prefer to stay in academia after their Masters, there is always an opportunity to go for a non-academic job.
Research scholars who graduate from IISERK often go for a postdoc at various renowned universities and some also take up teaching positions at many such places.
After graduating from IISERK, there are plenty of directions in which you can extend your expertise and make a living.
IISER means a lot me. It was the place where I fell in love with the evening sky. It was the place where I met talented minds with whom I had thousands of discussions on movies, politics, equality and what not. My interaction with friends, juniors and seniors who came from different backgrounds helped me better understand systematic discrimination in our society in many forms. I'm fortunate that IISER provided a platform to be a better human being and not only a better scientist.

Tousif Islam (Currently a Graduate Student at Center for Scientific Computing and Visualization Research UMass Dartmouth, USA, Batch: 13MS)
Also, being a part of the IISER Kolkata community, we, along with the upcoming members of the community, need to work together on various aspects. Despite having a strong national rank in NIRF (second-best among the IISERs in 2020) and Nature Index (Institute Global Rank – 404, Fastest Growing Institute Global Rank – 59 by Research and 57 Academically in 2020), IISER Kolkata needs to further improve the quality of research and the student-friendly environment of the campus in order to reach the pinnacle of Indian institutes and also globally.
The difference between the research atmosphere at IISERK and that at IISc – broadly speaking – is due to the idea of doing research. I might be wrong, but in my experience, a large number of researchers at IISERK are running after the number of research articles while IISc prioritizes the quality. At end of the day, this kind of mentality – in general – makes the path narrower for the young researchers. We all know that the quantity is important to survive, but it ought not to be the soul purpose of doing research, no?

Prahllad Deb (IISc Bangalore Alumni and Currently a Research Associate at Department of Mathematics and Statistics, IISER Kolkata, Batch: 14RS)
IISER Kolkata being one of the growing science institute of the nation is tremendously dependent on its research work and facilities. The institute is readily coping up with the demand of research work and thus, good research facilities are also provided to the students. The research work and research mind works well when there is other extra-curricular activities going around. We as a part of the institute need to improve a bit upon that, which can help researchers shed their mental and physical pressure.

Kaustav Gangopadhyay (Currently a Senior Research Fellow at Department of Biological Sciences, IISER Kolkata, Batch: 15RS)
How can you be a part of the IISER K family?
You can be a part of the IISER family in various ways. If you want to join the IISERs for the BS-MS programme, then you can join through 3 different streams as of 2020:
KVPY Stream: Kishore Vaigyanik Protsahan Yojana is one of the most prestigious and highly paid undergraduate scholarship for Indian students pursuing basic science, which is provided by the Department of Science and Technology, Government of India. Once you clear the examination and the interview rounds, you get an all India rank which will help you get a seat in the IISERs. KVPY exam can be undertaken while one is studying in class 11 (Stream – SA), class 12 (Stream – SX) and first year of the bachelor in science programme in some university/college/institute (Stream – SB).
JEE Advanced Stream: After qualifying JEE Main, one gets to sit for JEE Advanced exam. Your general/categorical rank of this exam should be within the top 10000, for you to apply for the IISERs.
SCB Channel: The State and Central Board Channel selection is based on your performance in the IISER Aptitude Test conducted by the IISERs. You can sit for the exam if your 12th board marks are above the year-wise and board-wise cutoff declared by the IISERs. This channel has the highest seat quota and so there is a higher chance for one to get in through this stream.
If you are interested in the Integrated PhD programme, each IISER sets its own criteria which also depends on the department you want to join. However, you must have a bachelor or equivalent degree in science and engineering from recognised institutes. This is a highly competitive entrance procedure and only a handful of highly merited students clear the interview. There is no fixed number of how many students will be considered for final selection, but as of the session 2020-21, only four students were selected in Biological Sciences, Chemical Sciences, and Earth Sciences, five were selected by Physical Sciences and only two students were selected by Mathematics and Statistics department of IISER K.
Also, the Center of Excellence in Space Sciences India (CESSI) at IISER Kolkata invites applications and offers a research-oriented masters programme in Space Physics for students with a background in Physics and Engineering who are highly motivated to pursue research and career in space sciences. This position is highly competitive and has a very limited number of seats.
If you have a Masters degree, you can consider joining the PhD programme. Again IISER K, like other IISERs, has its own set of criteria. Other than the departments mentioned above, you can also get a position in Centre for Advanced Functional Materials(CAFM)-DBS and CAFM-DCS.
Recently, IISER K has also started two new departments, namely, Humanities and Social Sciences and Computer Science and Applications.
IISER Kolkata also offers attractive summer project positions for undergraduates and graduates from within and outside IISER K. Keep looking for the updates on the IISER K Homepage. Also, for further details regarding the admission process, keep looking for updates on either IISER Kolkata's Application Portal or the official centralized Admission Portal of the IISERs.
I did an online summer research project this year under the supervision of Prof Jayasri Mam and learned many new things and got insights of modern experiments in the field of biotechnology. It would be great if someday I get the opportunity to work in the IISER lab and have a hands on experience. Even the senior research scholars are so helpful and knowledgeable there and guided the interns so well. And in future also, if possible, I would like to do my higher studies there.

Arodipa Chowdhury (Summer Intern 2020 and Currently a 4th Year Biotechnology Student at Heritage Institute of Technology, Kolkata)
Well, being a summer intern at IISERK has been one of the best experiences of my life. When I entered the Protein Engineering Lab as a 1st year UG student, I had no idea how the next 2 months were not only going to change the way I perceived research but also teach me new things about myself. From meeting new people, experiencing a new campus, learning about proteins to playing Tennis drenched in the rain, those 2 months were truly rewarding!

Raibat Sarker (Founder and Blogger at 'The Qrius Rhino', Summer Intern 2018, iGEM 2020 IISER Bhopal Team Member and Currently a 4th Year Chemistry Major BS-MS Student at IISER Bhopal)
IISERK students have always proven that academics, research and extra-curricular activities are the different branches of the same tree, the tree of college life. They water this tree throughout their stay and it bears the fruit in the end. Let's hope that this trait of IISERK remains alive with the upcoming members of this diversely talented family. We hope that we could collate some of the aspects relevant to IISERK and the life revolving around it. The entire IISERK family wishes good luck to all of the aspirants and welcomes you all to embark upon a multifaceted journey, here at IISER Kolkata.
By Arumay Biswas and Diptatanu Das, IISER Kolkata.
Acknowledgement:
Dakshesh Vasan for describing Inquivesta and Inquibytes.
Dakshesh Vasan, Aditya Kumar and Siddhikant Mishra from Team Inquivesta X, 9 and 8 respectively, for kindly giving us access to the multimedia resources of Inquivesta.
Quote contributors (current students and alumni of IISER Kolkata) for letting us know about their perspectives on various aspects of IISERK.
Pritish Biswas, Kaustav Gangopadhyay, Suman Basak, Navonil Saha, Anchita Addhya, Akash Tiwari, Shubham Ilhe, Debshruti Biswas, Soumajit Gayen and PIXEL (The Photography Club of IISER Kolkata) for photographs used in this blog.
Manu Gupta for improving our content on CESSI, IISER Kolkata.
About the Authors:
I am Arumay Biswas, a fourth-year chemistry major from IISER Kolkata. I consider myself to be an aviation fanatic and I feel guilty to find aeroplanes more interesting than chemistry itself. I hope to travel around the world and experience different food cultures. Apart from planes and food I like studying(sigh!), cooking, listening to Indian classical music and reading Harry Potter.
This is Arumay's first blog for TQR.
Diptatanu is a fourth-year BS-MS student at IISER Kolkata and a KVPY fellow, majoring in biology, with a chemistry minor. He has been a part of the gold-medalist iGEM IISER Kolkata teams in 2018 and 2019 and is also associated with next year's team. Other than having a high affinity for good food and sleep, he loves to make music and play TT, football, cricket, etc., in his free time. He prefers to do some original work and has been writing articles, blogs and composing new songs. He is currently the CEO of IISER Kolkata Campus Radio and is also one of the admins and a regular blogger of our blog page, 'The Qrius Rhino'.
Read his other blogs for TQR: Dragon's Triangle – The Pacific Ocean's Deadliest Enigma, How Good Is Gaming?, A Dream within a Dream, Impacts of Natural Disasters on Ecological Balance – An Original Perspective, iGEM in India!, Coronavirus – An Unsolvable Challenge? and A Summer in Germany!